Reverend Rhonda Schienle was exactly the type of minister we were looking for to preside over our ceremony. She listened to our needs and preferences and created a wedding ceremony that was perfect for us. She was timely in her responses, and she was helpful in her suggestions for our personalized ceremony. Her enthusiasm and caring spirit were evident throughout our special day. She was professional throughout the entire process, as well! We absolutely recommend her to any couple who is looking for a special, unique and memorable ceremony.

Thank you,

Allison and Christopher Gomez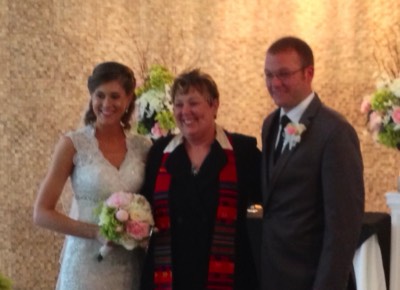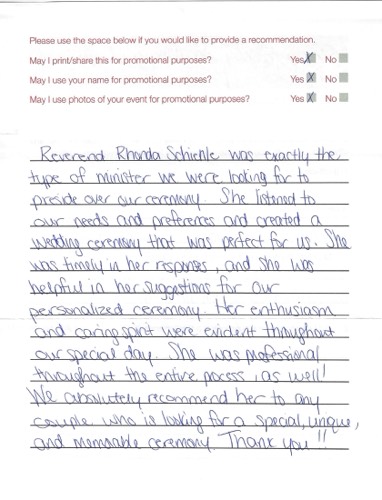 Consecration/Blessing of Ashes
It is with great pleasure to write a testimonial regarding Rev. Rhonda Schienle and the sacred ceremony that she so lovingly was willing to do for me.

After a few conversations with Rev. Rhonda about my wishes of wanting my Husband and Grandson's ashes to be consecrated, she took the time to come up with a beautiful ceremony that met my specific needs.

Rev. Rhonda came to my home with prepared materials that included candles, prayers, holy water and anointing oil for this sacred ceremony. She even offered a certificate and the date of the ceremony for my family and records.

After the ceremony, I felt peace in my mind and heart.

H. Haydl
Northwest Indiana
Awesome job. Thank you so much for making our day special.

~ Mr and Mrs. D. Haskins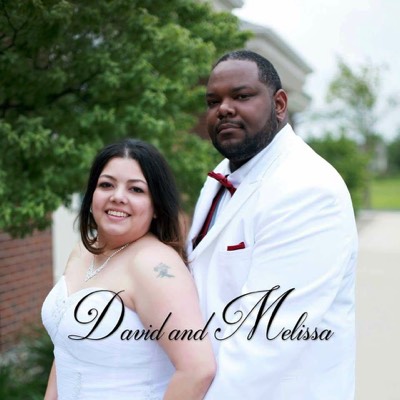 Reverend Schienle was very accommodating of our non-traditional wedding. She did a great job incorporating symbolism rather than religion and made our wedding the most amazing and beautiful day I could have ever imagined. She customized our vows to fit our needs, and even incorporated a beautiful and fitting poem into the ceremony. She even did the ceremony in an unconventional place of our choosing. A movie theater!

Britnee D.
Valparaiso, IN
My daughter, Reverend Rhonda Schienle, flew from Indiana to Idaho to perform a beautiful Baptism ceremony for me in March of 2013. I believe it was God's plan that my Baptism happened when and how it should. I was preparing for semi-retirement and had been putting off getting Baptized for years.

A pair of synchronicities occurred surrounding my Baptism that I'd like to share. Prior to my baptism, Rhonda and I had a long discussion about my upcoming retirement and using Faith in my life rather than existing on fear-based reactions to life. That night I watched Pastor Joel Osteen on TV and his sermon was about Faith.

The day of my Baptism ceremony was very special, both spiritually and emotionally, and having my daughter perform it certainly added to both. Little did I know that my own daughter would have a calling to become a Minister and would be the one chosen to perform my Baptism. I am so grateful for that.

The morning after my Baptism, I found myself watching TV and another show came on discussing how fear can paralyze one's life. The timing and confirmation about what I had been discussing with Rhonda and my Baptism and all that had been going on in my life leading up this point let me know that this was a Divine coincidence and there is a reason for everything.